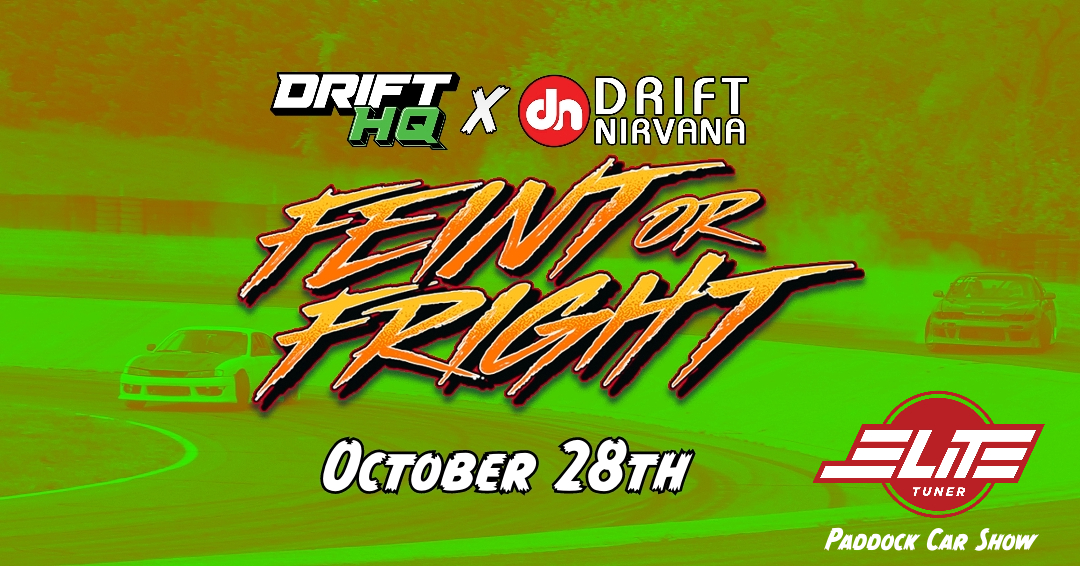 Join us
October 28th

 at Summit Point Motorsports Park for Feint or Fright, our blockbuster Halloween event. This year, we are partnering with Drift HQ to bring you a collaborative event that will blow you away. Introducing the "Drift HQ x Drift Nirvana Feint or Fright!"
---
Witness high-octane action featuring celebrity drifters like Adam LZ, Collette Davis, and the Drift HQ crew as they test the multiple drift loops on the Shenandoah Circuit with dizzying displays of drifting mastery.
Want an up-close and personal experience? Grab one of our limited 100 VIP bands to enjoy exclusive perks: a VIP Ride Along, a keepsake Event Shirt, and special access to not one but TWO VIP areas—the plush Shenandoah Suites and a prime spectator viewpoint on the bridge course. The excitement doesn't stop there! Elite Tuner will be hosting a massive car show for all the auto aficionados out there, and we've even got a Trunk or Treat lined up to delight the little ones. With four continuous loops of drifting to keep the adrenaline pumping all day, this is one event you won't want to miss!
---
We highly recommend pre-purchasing your tickets online as this is a capped event. If all tickets are sold pre-sale you will not be able to purchase them at the gate.
---